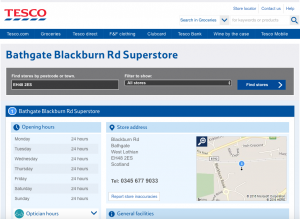 Brief: Tesco's Property Development division needs to understand how local communities in towns being considered for development, view the prospect of a new supermarket.
Tesco employed me to monitor the online community in some of their targeted towns "listening" for dissatisfaction with the existing supermarket provision and whether there was desire and support for new better supermarkets. I was also asked to find out about anti-development groups, anti- supermarket campaigns and local council policies.
Delivery: I provided Tesco with a comprehensive report on each town prior to meetings with local council leaders and community groups.
Building on this reconnaissance I created a Community Engagement Plan building up in stages over the project schedule including Community Consultation websites, Facebook pages and direct communication via Twitter and other online communication platforms.
Simon D Maxton, Development Executive Tesco: "Steve and his team carried out extensive research and provided background information to enable us to prepare a more targeted acquisition strategy. Following on from the initial research, he was able to help build a Community Engagement Plan, in the towns where we were to pursue the strategy, providing a clear understanding of the issues in each town. He also monitored the internet and kept me informed of local issues, complaints and social media campaigns, thus helping the team to avoid major problems. Steve is clever and hard-working and I can strongly recommend him."